Vintage Japan JTOY Tin Battery Operated Super Moon Patroler Space Vehicle w Box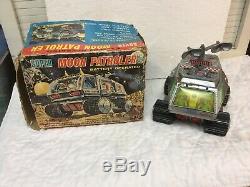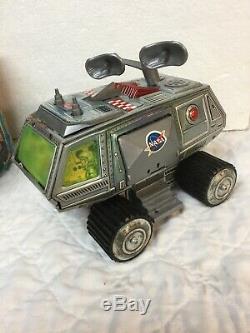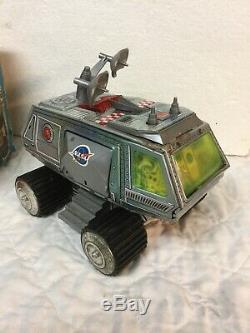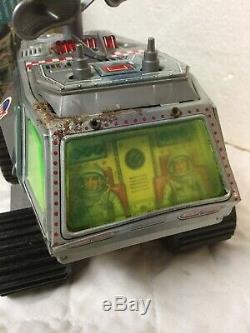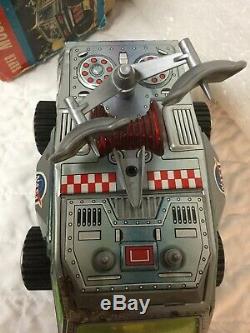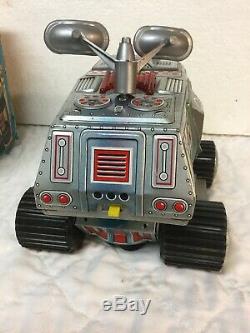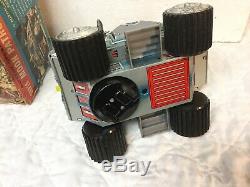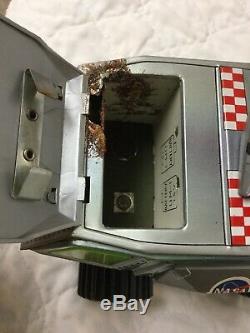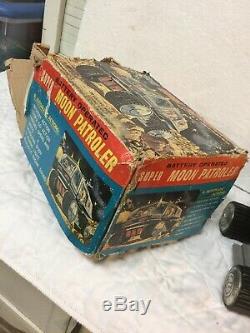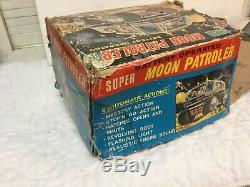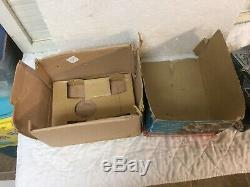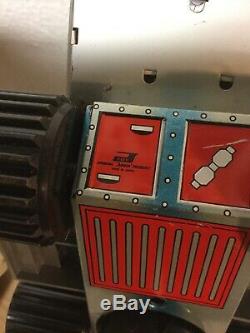 Very Rare Vintage Japan JTOY Tin Battery Operated Super Moon Patroler Space NASA Vehicle with Original Box. The vehicle measures about 9" long and 7" tall. It is absolutely guaranteed a genuine original toy from the classic post-war era.
The vehicle is in quite decent complete condition with nothing noted missing, the battery compartment has corrosion on one side and I did not test it with batteries; assume it will need some restoration to get it working but certainly displays fine. The original box cover is missing 1 end flap and has general edge wear; the interior has the cardboard fitting that held the toy in place; the base to the box looks complete and has split corner. My 12 photos will give you a fine appraisal. Nearly impossible to find any examples of this particular toy available past or present. From the INDEX OF JAPANESE TINPLATE TIN LITHO TOY MANUFACTURERS AND THEIR TRADEMARKS. / Suda Kinzuku / J Toy. Space toys encompass everything from robots to rockets to ray guns. Primarily associated with the tin and plastic toys of the mid-20th century, space toys reimagined and replicated the hardware used by matinee movie idol Buster Crabbe, who played Flash Gordon and Buck Rogers in the 1930s, as well as William Shatner, who portrayed Captain Kirk on Star Trek in the 1960s, and Harrison Ford, who inhabited Han Solo in the Star Wars films of the 1970s and 80s. Beyond space toys tied to high-profile entertainment franchises, many collectors are quite happy to get their hands on objects that live only within the universe of toys. These include tin and plastic flying saucers and battery-operated robots, many produced in postwar Japan, with generic names like Atomic Rocket, Rocket Racer, Robotank, Capsule 5, and Mr. Atomic, which was A Cragstan Toy from the 1950s made by Yonezawa.
The craze for Buck Rogers and Flash Gordon toys in the 1930s was actually spurred by the comic strips and radio shows for these outer-space adventurers, which preceded the movie serials. According to toy ray-gun collector Justin Pinchot, the first space gun was offered as a premium in 1933 by Cocomalt, a brand of powdered chocolate milk, which sponsored the Buck Rogers radio show. This early gun was made of cardboard, but in 1934, Daisy Manufacturing created the first metal space pistol for Buck Rogers, the XZ-31. By 1937, Marx had released the Flash Gordon Radio Repeater, a lithographed-tin gun that made a clicking sound when the trigger was pulled. After World War II, space toys proliferated as the public became increasingly interested in the promise of technology, whose terrible power had been displayed at Hiroshima and Nagasaki, and space exploration.
Companies such as Buddy L, Ideal, Hubley, J. Stevens, and Kenner made space toys out of everything from lithographed tin and paper to diecast metal, molded plastic, and even wood.
In addition to Buck Rogers and Flash Gordon items, toys bore the name of Tom Corbett, Space Cadet, which was a popular TV show in the 1950s. Space toys based on TV shows such as Lost in Space and Star Trek followed in the 1960s, while the stand-alone line of Major Matt Mason toys and action figures from Mattel appeared in 1966. The biggest American space-toys franchise remains Star Wars, which was released in movie theaters in the spring of 1977. Toy maker Kenner had won the rights to produce Star Wars toys, but its initial line of four action figures (Luke Skywalker, Princess Leia, Chewbacca, and R2-D2) was not ready in time for the Christmas shopping season. The missing 3 ¾-inch figures were mailed to customers a couple of months later. Star Wars would go on to inspire all manner of toys, from Kenner playsets of the famous Cantina on Mos Eisley and the Ewok Village on Endor, to LEGO podracers, which were released in 1999 in conjunction with The Phantom Menace. In 2002, LEGO made its first minifigure with shorter legs to approximate the modest stature of Jedi master Yoda, while in 2008 LEGO produced its largest set, a 5,000-plus piece version of the Millennium Falcon, Han Solos legendary spaceship.
LEGO and other companies such as Monogram and View-Master also produced space toys that were based on fact rather than fiction. Naturally, these focus on the real space explorations of NASA, whose astronauts and vehicles are favorites of model-makers and LEGO fanatics alike. Examples range from Apollo modules from the 1970s to Space Shuttles of the 21st century. Of course, space toys are not just an American phenomenon. In Great Britain, space toys based on the exploits of Dan Dare and Dr.
Who were manufactured by Palitoy, Chad Valley, and others in the 1950s and 60s. Some of these basic designs were good enough to be recycled as Italian space toys. But the leaders of postwar space toys were the Japanese, who made tin toys an art form with their flying saucers, rocket ships, and extraterrestrial robots. Some of the most collected Japanese manufacturers include Masudaya, Nomura, Hashimo, Horikawa, Union, Asahi Toy, Bandai, and Tomy. Many of the brightly colored, lithographed tin space toys these companies made were wind-ups, while others were powered by batteries or friction.
And some like the Yonezawa Atom-Car and Atom Jet blurred the line between model cars and space toys. The item "Vintage Japan JTOY Tin Battery Operated Super Moon Patroler Space Vehicle w Box" is in sale since Sunday, August 4, 2019. This item is in the category "Toys & Hobbies\Robots, Monsters & Space Toys\Space Toys\Pre-1970".
The seller is "spooknook" and is located in Weymouth, Massachusetts. This item can be shipped worldwide.

---