Vintage Philip Niedermeier Mystery Car Nr. 900 In Original Box! Clockwork/tin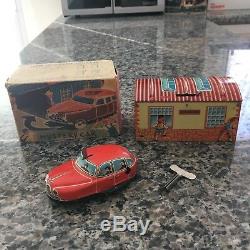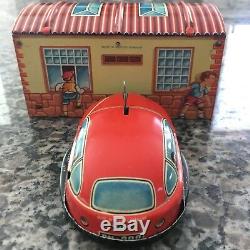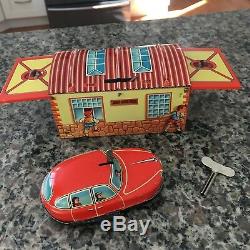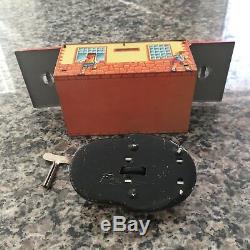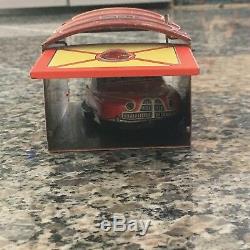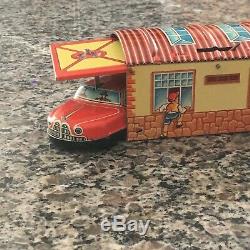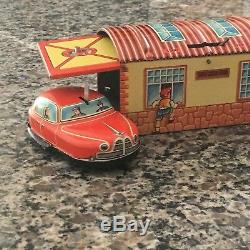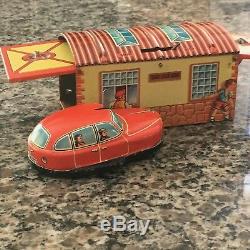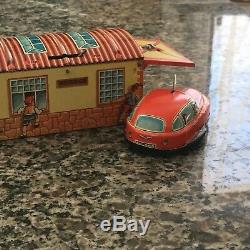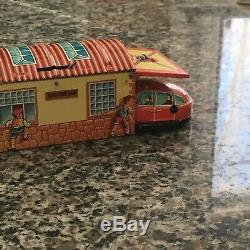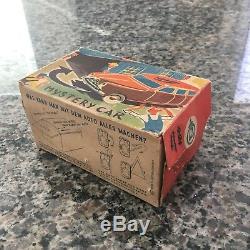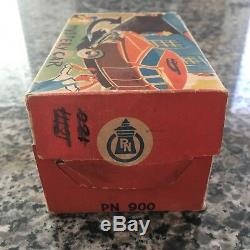 LUIOB = L IGHTLY U SED I N O RIGINAL B OX. HAVING HUNDREDS OF MODEL CARS TO CHOOSE FROM, MOSTLY PORSCHE AND CORVETTES, I HAVE DECIDED TO START LISTING SOME OF THESE HERE ON E-BAY. 95% OF THESE ARE ONE-OF-A-KINDS LISTINGS AND I WILL DO MY BEST TO SHOW YOU AN ARRAY OF PICTURES AND DESCRIBE THEM TO THE BEST OF MY ABILITY. IS NO EXCEPTION TO THIS RULE! NIEDERMEIER MYSTERY CAR HAS BEEN RE-ENGINEERED BY YONEZAWA WHO ALSO CHANGED THE NAME FROM "MYSTERY CAR" TO "MYSTERY GARAGE". HERE YOU GET THE OPPORTUNITY TO OWN AN ORIGINAL WESTERN GERMANY ITEM AT A REASONABLE PRICE. THIS IS NO KNOCK OFF! HERE YOU HAVE THE ORIGINAL TIN GARAGE WHICH HAS DOORS WHICH OPEN UP ON BOTH ENDS.
THIS IS DESIGNED THIS WAY AS IT ALLOWS THE CAR TO BOTH ENTER AND EXIT THE GARAGE WITH NO HELP FROM YOU (UNLESS YOU OPT TO USE THE "STOP" LEVER). THIS GARAGE IS IN OVERALL SHOWCASE SHAPE/CONDITION. YOU HAVE NO DINGS, NO RUST, NO DENTS, NO CORROSION AND/OR NO IMPERFECTIONS FOUND ANYWHERE ON IT.
BOTH DOORS OPEN EASILY AND THE "START/STOP" LEVER ON TOP WORKS AS DESIGNED. ALL OF THE GRAPHICS YOU SEE ON THIS GARAGE ARE HERE VIA TIN LITHOGRAPHY, YOU HAVE NO DECALS OR STICKERS TO FALL OFF ON YOU. NEXT WE HAVE THE CLOCKWORK TIN CAR. THIS CAR IS THE KEY TO THE "MYSTERY" BEHIND IT'S OPERATION. UPON CLOSE INSPECTION OF THIS VEHICLE, YOU WILL NOTICE THAT THE SINGLE DRIVE WHEEL IS SKEWED TO ONE SIDE.
THIS FORCES THE CAR, WHEN OPERATING, TO SLIGHTLY VEER OFF TO THE RIGHT. WHEN YOU PLACE THE CAR TO THE LEFT SIDE OF THE GARAGES OUTSIDE WALL WHILE TRAVELING AWAY FROM YOU, IT WILL HUG THE OUTSIDE WALL OF THE GARAGE AND DEPENDING ON IF YOU HAVE THE DOOR OPENED OR CLOSED, THE CAR WILL GO PAST THE CLOSED DOOR OR TURN INTO THE OPENED DOOR. ONCE AGAIN, DEPENDING ON HOW YOU PLACE THE GARAGE, NOW THE CAR WILL EITHER DRIVE THROUGH THE GARAGE (NON-STOP) OR THE CARS TOP LEVER WILL CATCH THE OVER HANG IN THE GARAGE AND FORCE IT TO "STOP".
IN THIS INSTANCE, YOU WOULD HAVE TO MOVE THE LEVER LOCATED ON TOP OF THE GARAGE TO "START" TO ONCE AGAIN START THE ACTION. THE CAR WILL STAY "PARKED" INDEFINITELY UNTIL YOU RELEASE IT. THE CAR ITSELF DOES SHOW SOME MINOR WEAR FROM USAGE AND BY IT'S DESIGN, IT MAKES CONTACT WITH ANOTHER OBJECT, BE IT THE GARAGE OR OTHER OBSTACLE. THE TIN LITHOGRAPHY IS IN VERY GOOD OVERALL CONDITION/SHAPE AND THE CLOCKWORK SPRING IS ORIGINAL AND STILL STRONG TO THIS DAY.
THIS TIN CAR WILL ALSO GO AROUND PRETTY MUCH ANYTHING YOU PLACE IT NEXT IT.... A GLASS, A PLATE AND KLEENEX BOX! YOU CAN EVEN CLOSE BOTH GARAGE DOORS AND THE CAR WILL CONTINUOUSLY GO AROUND THE OUTSIDE OF THE GARAGE UNTIL THE CLOCKWORK DRIVE DIES.
THIS "MYSTERY CAR" IS USED, BUT HAS NEVER BEEN ABUSED. AS YOU CAN SEE FROM MY PICTURES, I FULLY TESTED THIS ON THIS DAY.... THE 22ND OF JANUARY 2019.
IT PERFORMED IT'S TASK PERFECTLY AND WITHOUT ISSUE. THIS ITEM NUMBER PN 900 COMES IN IT'S ORIGINAL BOX. HERE YOU HAVE A VERY NICE EXAMPLE OF THE ORIGINAL BOX THAT HAS ALL OF THE SMALLER INNER FLAPS STILL ORIGINALLY ATTACHED. YOU DO HAVE SOME WRITING ON THE BOX LOCATED ON BOTH SMALLER SIDE FLAPS.
YOU HAVE NO ADDED TAPE OR GLUE FOUND ANYWHERE ON THIS BOX. A TINY PUNCTURE HOLE IS LOCATED ON THE BOX FROM THE DESIGN OF THE ROOF LEVER, THE VERY END OF THIS IS NOT PROTECTED IN ANY FASHION, SO THIS ENDED UP POPPING THROUGH THE LARGER SIDE PANELS. I DO ASK THAT YOU INSPECT MY PICTURES THOROUGHLY AS THESE DO BECOME A VERY IMPORTANT PART OF MY DESCRIPTION HERE AND DO A FAR BETTER JOB OF SHOWING YOU EXACTLY WHAT IT IS THAT YOU WILL BE RECEIVING FROM ME VS. IF YOU'D LIKE TO SEE ANY PARTICULAR AREA OR FEATURE CLOSE UP, SIMPLY CONTACT ME AND LET ME KNOW WHAT IT IS YOU'D LIKE TO SEE MORE OF AND I'LL TAKE IT FROM THERE!
AFTER ALL JUST HOW DIFFICULT IS IT TO TEST A MODEL? ALL ONE NEED DO IS TO TOSS IN A FEW BATTERIES AND GIVE IT A GO, OR A SIMPLE PUSH TO SEE IF THE FRICTION DRIVE IS WORKING! MYSTERY GARAGE IS TESTED AND IS GUARANTEED TO BE IN OPERATIONAL SHAPE/CONDITION UPON IT'S ARRIVAL TO YOU. I TAKE PRIDE IN MY MODELS THAT I OFFER HERE IN THE E-BAY WORLD.
I DO HAVE OPTIONS AND I CHOOSE TO OFFER ONLY THE VERY FINEST THAT I HAVE AVAILABLE. ALL-IN-ALL YOU WILL BE VERY, VERY HARD PRESSED TO LOCATE ANOTHER. THAT LOOKS LIKE THIS ONE DOES! ADD TO THIS THE FACT THAT YOU HAVE THE ORIGINAL BOX (IN VERY GOOD TO EXCELLENT OVERALL SHAPE/CONDITION) AND NOW YOU HAVE SOMETHING THAT ANY COLLECTOR WOULD BE PLEASED AND PROUD TO ADD TO THEIR PRIVATE COLLECTION! ONCE AGAIN, PLEASE TAKE A GOOD LOOK AT THESE PICTURES AND IF YOU HAVE ANY QUESTIONS OR DESIRE ADDITIONAL PICTURES, PLEASE FEEL FREE TO CONTACT ME VIA E-BAY MESSAGING AND I WILL DO THE REST!
IS AN EXCELLENT EXAMPLE OF A MODEL AND OF AN ERA THAT HAS LONG PASSED US BY. THIS IS A RELATIVELY NEW STORE FOR ME HERE ON E-BAY, BUT, I COME WITH A WELL OILED AND POLISHED TRACK RECORD! A GOLD T/RATED POWERSELLER WITH OVER 8 YEARS OF THIS STATUS BACKING ME.
I SPECIALIZE IN PRIMARILY THE AUTOMOTIVE FIELD AND I CONCENTRATE WITH/ON PORSCHE, BENTLEY, AUDI AND. I HAVE A UPS ACCOUNT AND MOST OF MY OFFERINGS HERE SHALL BE SENT THAT WAY. I PACK EACH AND EVERY ITEM MYSELF AND DO SO AS IF I WERE RECEIVING IT. UTILIZING THIS METHOD TO OBTAIN ONES SIGNATURE IS ADVANTAGEOUS TO "WE THE SELLERS". AS MENTIONED ABOVE, THIS IS A NEW AREA FOR ME (HERE ON E-BAY) AND I DO TRY MY BEST TO DO AS GOOD AS I CAN.
THIS HAS BECOME A FULL TIME BUSINESS FOR ME AND I REALLY ENJOY DOING IT. I WILL CONTINUE TO DO SO TILL IT BECOMES A BURDEN AND I CAN NO LONGER ENJOY IT.
I WILL BE ADDING TO THIS STORE WEEKLY (OR TRYING TO) AND HOPEFULLY YOU WILL SEE THAT I DO EXACTLY WHAT I SAY AND DO SO IN A VERY TIMELY FASHION. INTERNATIONAL BUYERS, PLEASE READ THE VERY BOTTOM OF THIS SECTION AS IT DOES APPLY TO YOU......
IT IS MY INTENTION TO LIST AT LEAST ONE NEW MODEL/TOY CAR A DAY UNTIL SUCH A TIME WHEN I CONSIDER MYSELF BURNT OUT. I HAVE LITERALLY HUNDREDS OF DIFFERENT MODELS TO CHOOSE FROM.
SO IT MIGHT BEHOOVE YOU TO CHECK IN WITH ME REGULARLY. WHO KNOWS WHEN YOU MIGHT FIND THAT ONE MODEL/TOY THAT WILL COMPLETE YOUR COLLECTION! THIS IS WHERE I THANK YOU FOR YOUR TIME IN READING ALL OF THE ABOVE.
IN ORDER TO VIEW MY LISTINGS IN A CONCISE AND ORDERLY FASHION, ALL YOU NEED DO IS TO LOCATE THAT SMALL. DOOR A TOP THIS PAGE. THIS IS LOCATED JUST BELOW MY SELLERS ID AND FEEDBACK TALLY.
THE VIRTUAL DOOR TO MY STORE HERE ON E-BAY! IN ORDER TO STREAMLINE YOUR SEARCH FURTHER, ONCE YOUR IN MY STORE, TO THE LEFT YOU WILL SEE A "SEARCH" BAR, IF YOU'D LIKE TO SEE JUST MY MODEL CARS, JUST TYPE IN "MODEL CAR" AND JUST MY LISTED MODEL CARS WILL POP-UP. IF YOU'D LIKE TO SEE SOME LP'S... I THINK YOU GET THE GIST OF THIS NOW! I HAVE A LIST OF CATEGORIES THAT WILL ASSIST YOU IN STREAMLINING YOUR SEARCH AS WELL.
I HAVE ADDED A NEW CATEGORY OF "ANTIQUE/VINTAGE TOYS", BE SURE TO CHECK THIS ONE OUT! ONCE AGAIN, I THANK YOU FOR YOUR CONSIDERATIONS ON THI S LIGHTLY USED, TIN, CLOCKWORK "MYSTERY GARAGE" FROM PHILIP NIEDERMEIER (PN) WHICH IS STILL IN IT'S ORIGINAL BOX AND FOR ANY OTHER CONSIDERATIONS THAT YOU MIGHT HAVE GIVEN ME IN THE PAST..... INTERNATIONAL CUSTOMERS ONCE AGAIN, PLEASE TAKE NOTICE..... The item "VINTAGE PHILIP NIEDERMEIER MYSTERY CAR NR.
CLOCKWORK/TIN" is in sale since Saturday, March 23, 2019. This item is in the category "Toys & Hobbies\Robots, Monsters & Space Toys\Space Toys\Pre-1970".911" and is located in Coventry, Rhode Island. This item can be shipped worldwide.
Modified Item: No
Custom Bundle: No
Theme: MYSTERY CAR/GARAGE SET.
Year: CIRCA LATE 1950'S EARLY 1960'S.

Brand: PHILIP NIEDERMEIER
Non-Domestic Product: No
ITEM LOCATION:: DRAWERS. 900 :: WAS/IS MADE IN WESTERN GERMANY.



---