VINTAGE, FLYING SAUCER BY YONEZAWA. BATTERY OPERATED, FULLY WORKING, WithBOX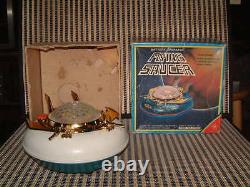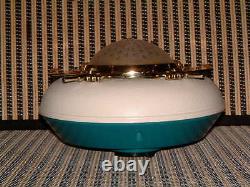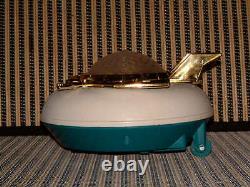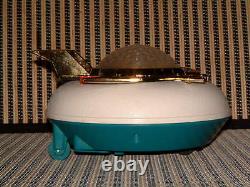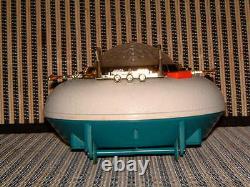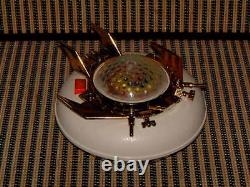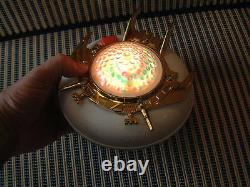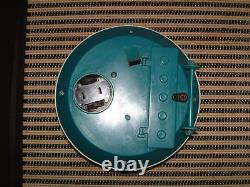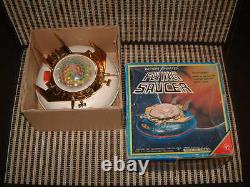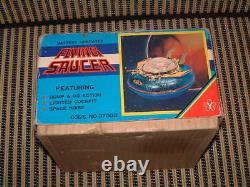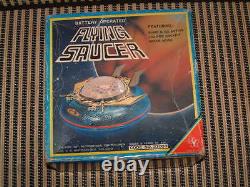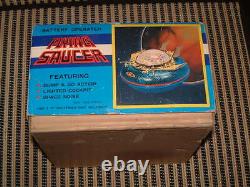 THIS FULLY PLASTIC UFO IS 100% FUNCTIONAL AND 100% ORIGINAL! THIS IS THEIR MODEL NUMBER: 37003. LUIOB = L IGHTLY U SED I N O RIGINAL B OX. THIS FLYING SAUCER IS A REALLY COOL MODEL TO BOTH, USE AND WATCH! IT'S SIMPLY TO OPERATE AND THESE ARE IT'S KEY FEATURES: 1.
FULLY WORKING BUMP & GO ACTION, 2. FULLY ILLUMINATED COCKPIT (OR CABIN) AND 3.
THIS YONEZAWA "FLYING SAUCER" IS WHITE IN COLOR AS THE UNIT ON THE BOX IS PICTURED IN BLUE (SO I ASSUME THAT A FEW COLORS WERE ONCE AVAILABLE). THE WHITE DISC IS 6 1/2 INCHES IN CIRCUMFERENCE (16.5CM) AND STANDS ABOUT 3 INCHES TALL (7.5CM). THIS FLYING SAUCER BODY/SHELL IS IN EXCELLENT ALL AROUND CONDITION. I SEE NO VISIBLE CRACKS, SPLITS OR ISSUES.
THE GOLD TRIM IS STILL VERY SHINY AND NO REPAIRS HAVE EVER BEEN MADE TO ANY OF THE FINS, GUNS, WINGS, ECT. THE PLASTIC DOME IS IN IDENTICAL CONDITION AS IT'S BASE AND LOOKS TO BE IN PERFECT SHAPE/CONDITION. THE CHASSIS IS PERFECT WITH NO ISSUES AT ALL.
THE BATTERY COMPARTMENT AND THE ATTACHED LID ARE IN PERFECT CONDITION AND THE CONTACTS WITHIN THE BATTERY COMPARTMENT ARE CORROSION FREE. ALL OF THE WHEELS ARE ROUND AND SHOW NO SIGNS OF WEAR.
THE ORIGINAL PACKAGING IS 100% COMPLETE AND ALL HERE. NO TAPE HAS BEEN ADDED ANYWHERE AND THE GRAPHICS ARE STILL SHARP AND CLEAN. YOU ALSO HAVE THE ORIGINAL DIE-CUT INSERT WHICH KEEPS THE FLYING SAUCER CENTERED IN IT'S BOX. THE BOX DOES SHOW IT'S AGE AS THIS WAS ONCE PLACED IN ONE OF MY TOWERS OF TOYS AND THE SHELF RASH IS APPARENT THROUGHOUT THE BOX.
YOU ALSO HAVE A SMALL STAIN ON THE BOTTOM OF THE BOX. IT APPEARS TO HAVE PICKED THIS UP SOMEWHERE ALONG IT'S LIFE. THE ONLY ISSUES ARE THAT THE ORIGINAL INSTRUCTIONS ARE MISSING AND THAT I DO NOT HAVE IT'S SISTER, THE BLUE MODEL/VERSION! TO OPERATE THIS YOU SIMPLY PLACE TWO (2) SIZE "C" BATTERIES INTO THE BATTERY COMPARTMENT (NOT INCLUDED) AND LOCK IT CLOSED. YOU THEN PLACE THIS ON ANY HARD AND LEVEL SURFACE.
PLEASE KEEP IN MIND THAT THESE VINTAGE MODELS WERE NOT DESIGNED WITH CARPET IN MIND AND IF PLACED ONTO IT, YOU MIGHT DO SOME DAMAGE TO IT'S DELICATE INTERNAL GEARING. NEXT YOU SIMPLY PUSH DOWN ON THE RED "ON/OFF" SWITCH LOCATED ON THE TOP OF THIS FLYING SAUCER....
PLEASE TAKE A GOOD LOOK AT MY PICTURES, AS THIS IS EXACTLY WHAT YOU WILL BE RECEIVING FROM ME. IF YOU'D LIKE ANY ADDITIONAL INFORMATION OR PHOTOS, PLEASE DO NOT HESITATE TO CONTACT ME AND I'LL TAKE IT FROM THERE. THIS IS ONE OF THOSE EXEMPTIONS! AFTER ALL JUST HOW DIFFICULT IS IT TO TEST A MODEL?
ALL ONE NEED DO IS TO TOSS IN A FEW BATTERIES AND GIVE IT A GO, OR A SIMPLE PUSH TO SEE IF THE FRICTION DRIVE IS WORKING! THIS PERFECTLY WORKING "FLYING SAUCER" IS FULLY TESTED AND I SEE NO NEED TO RETEST THIS AS IT PERFORMED ALL OF IT'S ORIGINAL FEATURES FLAWLESSLY. I TAKE PRIDE IN MY MODELS THAT I OFFER HERE IN THE E-BAY WORLD. I DO HAVE OPTIONS AND I CHOOSE TO OFFER ONLY THE VERY FINEST THAT I HAVE AVAILABLE. ONCE AGAIN, PLEASE TAKE A GOOD LOOK AT THESE PICTURES AS THEY DO BECOME AN ESSENTIAL PART OF MY DESCRIPTION.
THIS IS A RELATIVELY NEW STORE FOR ME HERE ON E-BAY, BUT, I COME WITH A WELL OILED AND POLISHED TRACK RECORD! I SPECIALIZE IN PRIMARILY THE AUTOMOTIVE FIELD AND I CONCENTRATE WITH/ON PORSCHE, BENTLEY, AUDI AND. I HAVE A UPS ACCOUNT AND MOST OF MY OFFERINGS HERE SHALL BE SENT THAT WAY. I PACK EACH AND EVERY ITEM MYSELF AND DO SO AS IF I WERE RECEIVING IT.
THIS COOL, VINTAGE, BATTERY OPERATED FLYING SAUCER. WILL BE SENT VIA US PS AND WILL BE FULLY INSURED. UNFORTUNATELY, IN THE PAST I HAVE HAD SOME RUN-IN'S WITH SOME SCRUPULOUS FOLKS WHO BY THEIR VERY NATURE "DO NOT PLAY WELL WITH OTHERS". SO PLEASE DO NOT FAULT ME WHEN IT'S TIME TO LEAVE YOUR FEEDBACK AS I HAVE NO MORE CONTROL OVER THIS THEN YOU DO! INTERNATIONAL BUYERS, PLEASE READ THE VERY BOTTOM OF THIS SECTION AS THIS DOES APPLY TO YOU......
AS MENTIONED ABOVE, THIS IS A NEW AREA FOR ME (HERE ON E-BAY) AND I DO TRY MY BEST TO DO AS GOOD AS I CAN. THIS HAS BECOME A FULL TIME BUSINESS FOR ME AND I REALLY ENJOY DOING IT. I WILL CONTINUE TO DO SO TILL IT BECOMES A BURDEN AND I CAN NO LONGER ENJOY IT. I WILL BE ADDING TO THIS STORE WEEKLY (OR TRYING TO) AND HOPEFULLY YOU WILL SEE THAT I DO EXACTLY WHAT I SAY AND DO SO IN A VERY TIMELY FASHION.
IT IS MY INTENTION TO LIST ONE OR TWO DIFFERENT MODELS EACH AND EVERY DAY (IF AT ALL POSSIBLE), OR UNTIL SUCH A TIME WHEN I GET BURNT OUT FROM DOING SO. IT MIGHT BEHOOVE YOU TO CHECK IN WITH ME OFTEN AS YOU'LL NEVER KNOW WHEN AND IF I WILL OFFER THAT SPECIAL SOMETHING THAT WILL ROUND OUT OR COMPLETE YOUR COLLECTION! THIS IS WHERE I THANK YOU FOR YOUR TIME IN READING ALL OF THE ABOVE. IN ORDER TO VIEW MY LISTINGS IN A CONCISE AND ORDERLY FASHION, ALL YOU NEED DO IS TO LOCATE THAT SMALL. DOOR A TOP THIS PAGE.
THIS IS LOCATED JUST BELOW MY SELLERS ID AND FEEDBACK TALLY. THE VIRTUAL DOOR TO MY STORE HERE ON E-BAY! IN ORDER TO STREAMLINE YOUR SEARCH FURTHER, ONCE YOUR IN MY STORE, TO THE LEFT YOU WILL SEE A "SEARCH" BAR, IF YOU'D LIKE TO SEE JUST MY MODEL CARS, JUST TYPE IN "MODEL CAR" AND JUST MY LISTED MODEL CARS WILL POP-UP. IF YOU'D LIKE TO SEE SOME LP'S... I THINK YOU GET THE GIST OF THIS NOW!
I HAVE A LIST OF CATEGORIES THAT WILL ASSIST YOU IN STREAMLINING YOUR SEARCH AS WELL. I HAVE JUST ADDED A NEWER CATEGORY " ANTIQUE/VINTAGE TOYS " TO HELP KEEP SOME OF THESE MODELS SEPARATE FROM MY OTHER LISTINGS HERE. ONCE AGAIN, I THANK YOU FOR YOUR CONSIDERATIONS ON THIS LIGHTLY USED, VINTAGE, BATTERY OPERATED, "FLYING SAUCER" MADE BY YONEZAWA WHICH IS STILL CONTAINED WITHIN IT'S ORIGINAL BOX. AND FOR ANY OTHER CONSIDERATIONS THAT YOU MIGHT HAVE GIVEN ME IN THE PAST......
This item is in the category "Toys & Hobbies\Robots, Monsters & Space Toys\Space Toys\1970-Now".911" and is located in this country: US. This item can be shipped worldwide.
Custom Bundle: No
Location: 4X
MPN: 37003
sku: 37003
Age Level: 3-4 Years
Title: BATTERY OPERATED FLYING SAUCER
Country/Region of Manufacture: Japan
Year: CIRCA LATE 1960'S
Brand: YONEZAWA TOYS CO.
Gender: UNISEX & COLLECTORS
Theme: ALIEN CRAFT
Recommended Age Range: AGES 3 AND OLDER
Type: Space Shuttle

---